Updated: March 2022
Description: AEFIS solutions that send external notifications via email include an option to include Dynamic Text, which allows the user to pull custom information from the solution itself, or from the data fields included in the institution data files. This allows for scaled customization of email communications about important processes managed in AEFIS. This guide provides information on how these fields work, and the source of their data.
What is Dynamic Text?
Dynamic text is a way to insert a place holder to merge data from another source into a notification at scale. Depending on the solution you are setting a notification in, you will be able to add different Dynamic Text items. When inserted into a Notification, the system will pull the data point related to the email recipient - like FirstName for example!
Can I change Dynamic Text?
Yes - but only with static text that will not draw data from the system. The fields you see in the dynamic text brackets are created automatically in AEFIS notifications, based on the solution that the notification is tied to. When they are displayed in the default notification, they do not have alternative options. But you can always delete dynamic text and replace it with static text. If you see the items in the red boxes below, those are examples of dynamic text that can be deleted and replaced with static text, but do not have alternative you may select from the Dynamic Text drop down menu.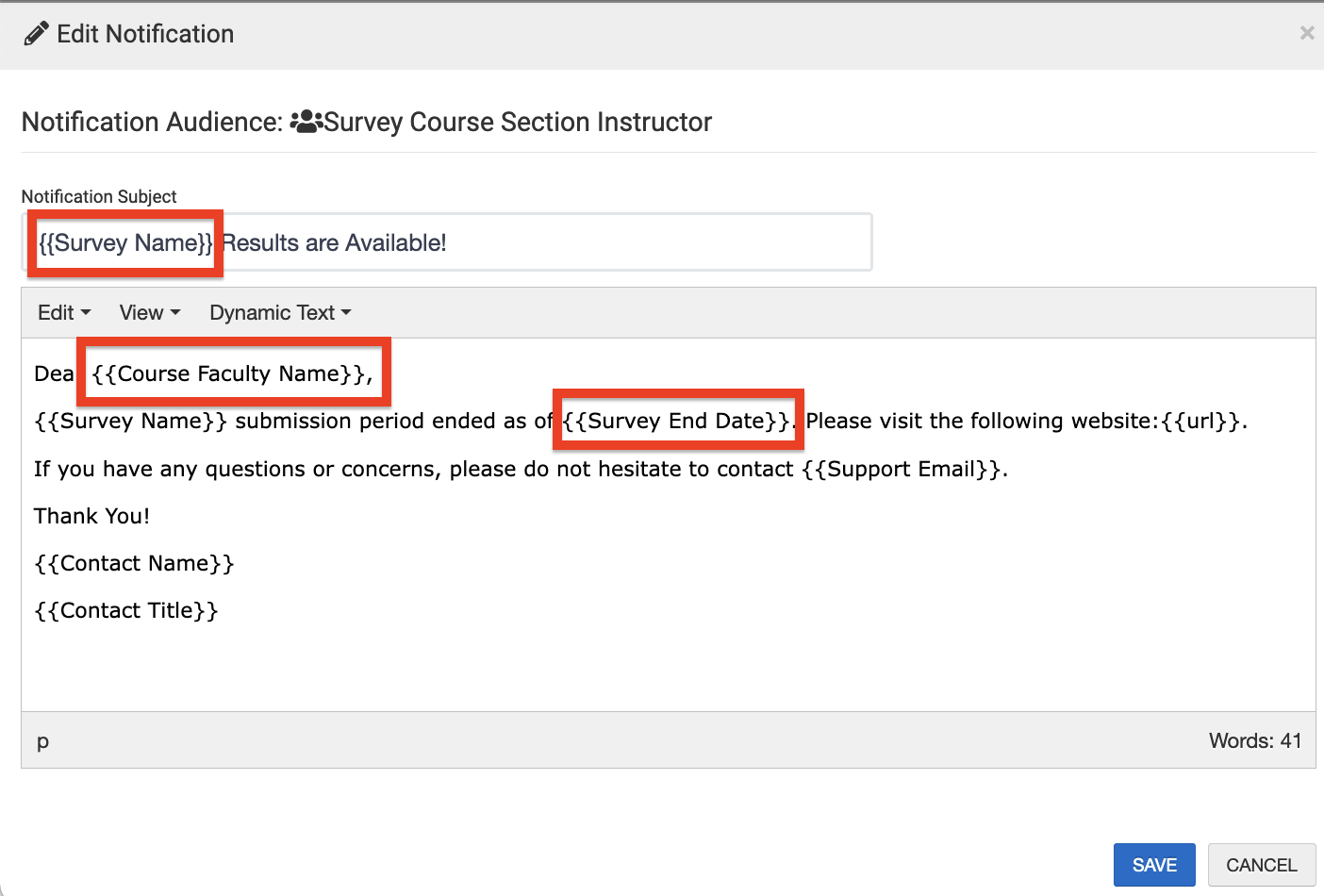 What Dynamic Text is in the Dynamic Text Drop Down?
The only Dynamic Text options in the Dynamic Text drop down menus are about the url that you would like to insert. One is Institution URL, which is your AEFIS website url. You may use that to insert the site. The other option is URL, which is the URL of the solution item like Data Collection or Self Study.