Updated: December 2021
Description: If you would like to identify samples of student work that accurately represent specific levels of student program learning outcome achievement during a term in a Course/Co-curricular Section, you may do so by using the Assignment Samples option within your Course/Co-curricular Section. Your AEFIS Program coordinator must enable this setting in a program, and your Course/Co-curricular activity must be included in that Program's curriculum map in order to store the samples of student work. This provides easy access for you, or your College/Department administrator to access samples of work that meets or does not meet your goals for learning outcome achievement.
Applicable to: Course Section Director, Instructor
Step by Step...
Step 1. Login to AEFIS
Step 2. Navigate to your Course/Co-curricular Section using the AEFIS Dashboard Sections and Syllabi widget, the LTI link in your Learning Management System, or by using the Main Menu to go to Educational Experiences>Courses Sections/Co-curricular Sections
Step 3. Select Assignment Samples from the Assessment menu on the left navigation menu of the section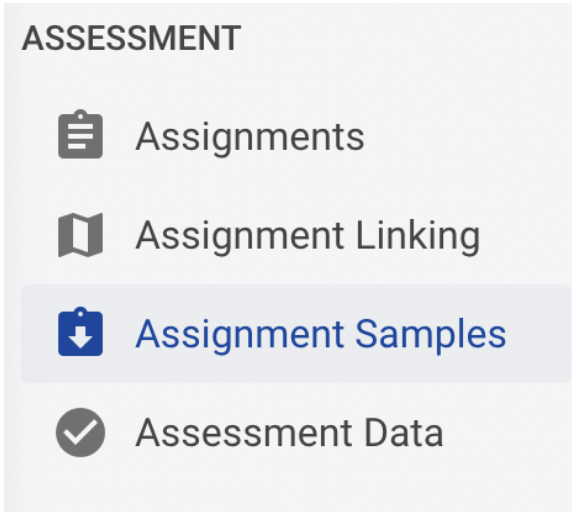 **Note: In order for samples to be available on this screen, you must link Assignments to Program Outcomes in a Program where Assignment Samples are enabled
Step 4. The Assignment Samples screen will display the Program Outcomes linked to Assignments in your Sections, and the categories set for organizing samples will display beneath the Outcomes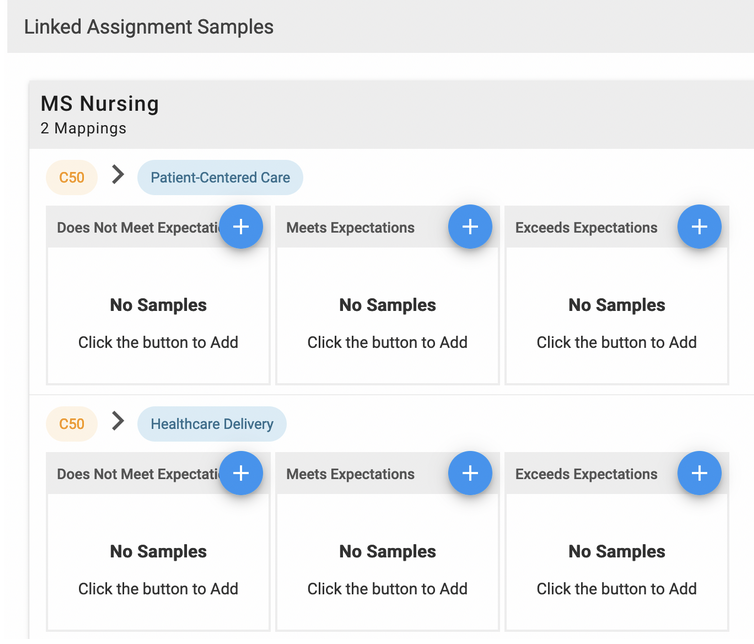 Step 5. To add student assignment samples, click the blue plus sign next to the assignment sample category displayed under the outcome and a document upload option will populate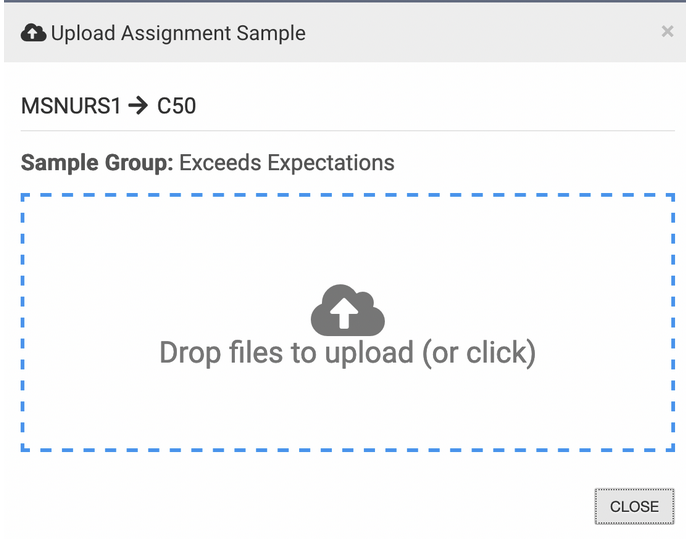 Step 7. Once you are done adding samples, you may click the grey Close button on the pop up
Step 8. The Assignment Sample screen will reload, and you will see a list of the samples included in the file set under each achievement category