Updated: October 2021
Description: Institution Admins will add the send-from email address that you would like AEFIS to use to send emails on your behalf when using email notifications within your solutions. If this email address is not set, your email recipients will receive emails from do-not-reply@aefis.com and that could be filtered by their spam filters.
Applicable to: Institution Admin
Step by Step
1. Login to AEFIS
2. Click on the hamburger menu at the top left of the screen and navigate to the Organizational Hierarchy section of the menu
3. Click on Institutions
4. Click the Manage button next to your Institution
5. Navigate to the Identity area of the Institution menu under Information
6. Scroll to Institution Email Settings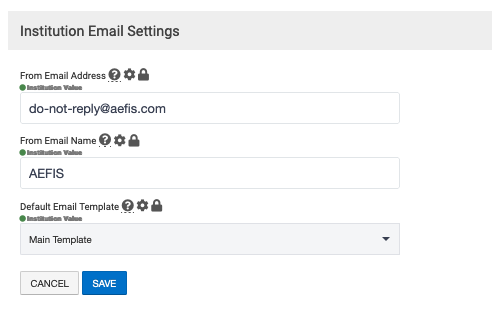 7. Add your Institution's "send-from" address under From Email Address
8. Add the name you would like to display as the sender to email recipients as From Email Name
9. Click Save
Your email will begin sending from that email address immediately if your email service is set up. If you are not sure if your email service is enabled, please email AEFIS Support.