Updated: June 2021
Description: Once your Survey Schedule is running, term-based Survey instances will generate for the current term, if applicable, and future terms, based upon how you set up your survey schedule using the Survey Scheduling: Comprehensive Guide. Once the Survey instance is created for the selected term, it may become apparent some changes are needed to the schedule before the survey generated starts. This guide provides instructions on how to delete a pending survey so you may revise the related survey schedule, and then regenerate the survey instance.
Applicable to: Institution Admin, Survey Administrators depending on Survey Ownership (Instititution, College, Department)
Step by Step:

Part One: Delete Survey instances in Pending or Active Status tied to your Survey Schedule
Step 1: Log in to AEFIS
Step 2: Click on the three line menu at the top left of the screen to access the Main Menu
Step 3: Scroll to the Surveys section of the Main Menu and select the Survey Schedules item within that submenu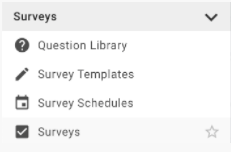 Step 4: At the top of the Survey Schedule Manager, you may use the filters to find your Survey Schedule


Step 5: Click Manage next to the Survey Schedule you would like to edit
Step 6: Select the Survey List menu item from the left menu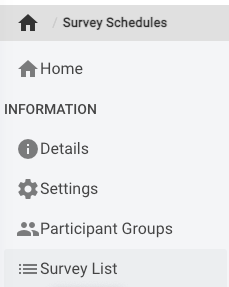 Step 7: You will then be presented with the list of all the Surveys that ran or will run tied to that Survey schedule. You will want to delete any surveys in Pending or Active Status before making changes to the Survey Schedule, if you would like those changes to be available in the surveys in those terms.
Delete The Surveys in Pending or Active Status:
a. Click manage next to the survey you would like to delete
b. Once the survey instance loads, click the grey Actions button at the top right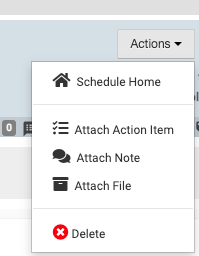 c. Select Delete
d. Click Delete Survey to confirm

e. Repeat this process for any other Survey instances tied to the schedule you would like to change, so you may regenerate the Survey instances once your Survey Schedule is updated
Part Two: Update your Survey Schedule
Step 1: Navigate back to the Survey Schedule
Step 2: Select UN-PUBLISH at the top right of the Survey Schedule
Step 3: Once the Survey Schedule is reverted back to Draft status, you may change any settings, including adding/removing Courses from the include/exclude rules
Step 4: Once your Survey Schedule changes are complete, you may Publish the schedule. This will generate Survey instances for any In Progress, Active and Pending terms in AEFIS immediately.