Updated: October 2021
Description: The Email Queue Manager within a survey allows admin to view the status of email survey notifications sent to participants. Through this queue, admin can view information such as: email subject, email recipient, sent date and email hold status. This allows the Survey admin to easily track the emails sent to participants, faculty and admin.
Applicable to: Institution Admin, College Admin, Department Admin, Institution/College/Department Survey Admin
Step-by-Step...
Step 1: Log into your AEFIS account
Step 2: Select the three white horizontal lines (hamburger menu) in the top left hand corner to open the AEFIS Main Menu
Step 3: Navigate to Surveys > Surveys
Step 4: Use either the +Add Filter or the search bar to locate the desired survey instance
Step 5: Select the Manage button on the right hand-side of the applicable survey
Step 6: Select the Email Queue Manager button in the panel on the left hand-side of the Survey
Step 7: You will then see the Email Queue page as displayed below: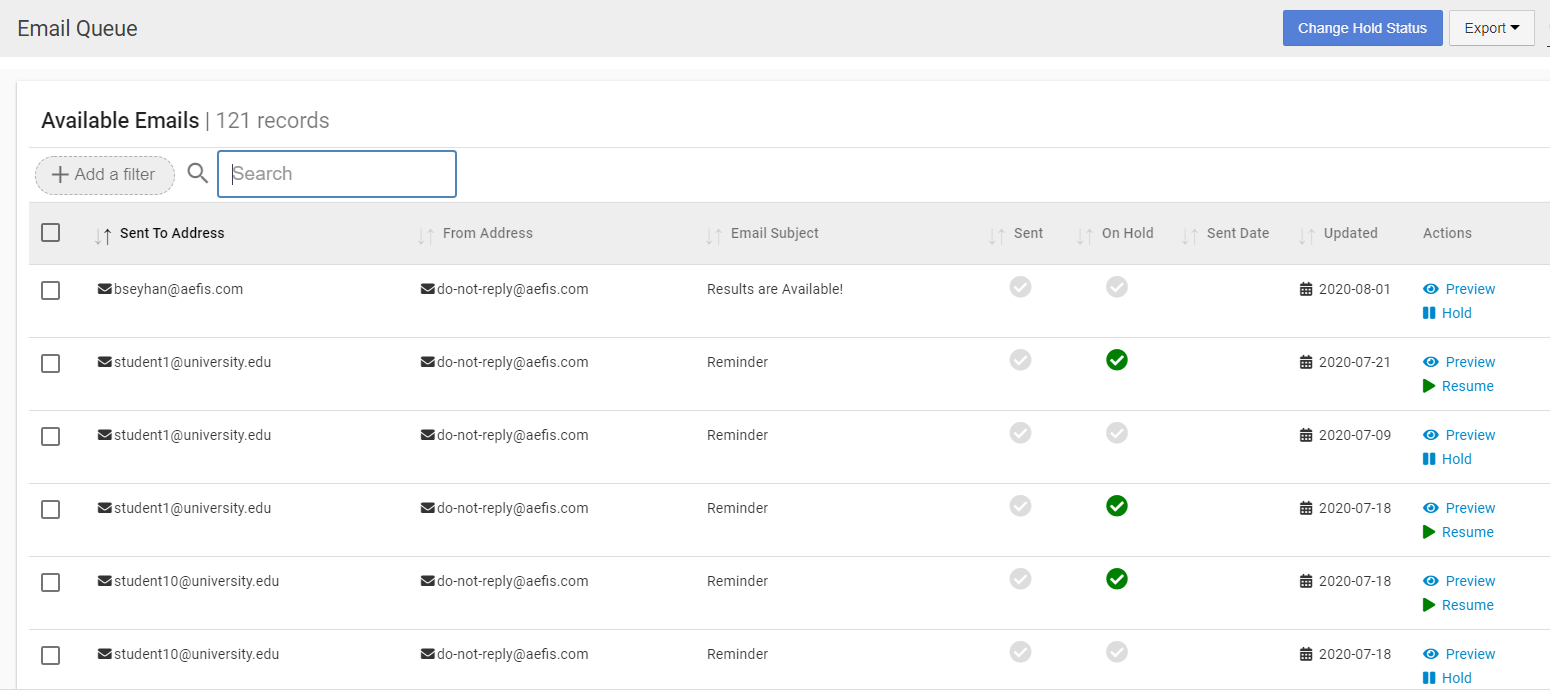 Step 8: Select the applicable filters to locate the desired information
Use the + Add a filter or search bar to locate the desired Available Email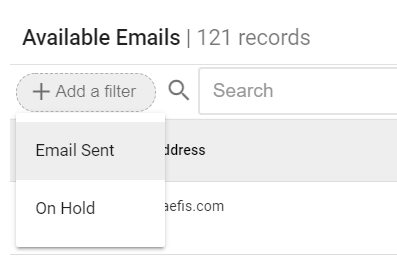 Select on a specific column header to organize the column in ascending or descending order. For example: clicking on the On Hold column header leads to all of the emails listed as On Hold to move to the top of the list. Clicking this button again, results in the opposite.

Step 9: You may preview the sent email by selecting the Preview button on the right hand-side:

Step 10: Additional functionalities within the Email Queue Manager include:
Changing the status of any email to Hold Status. This will stop a queued email from being sent until you take the hold off.

Exporting the queue in a PDF, Print or CSV file