---

HelioCampus has a new knowledge base to provide an expanded library of content and support usage of the Assessment & Credentialing platform!

Review this new knowledge base for improved help content related to the Course Syllabus:

---
Updated: October 2021

Description: Once a Syllabus Template has been created and assigned to a Course and Course Section, faculty members may edit their Syllabi to include assignments, schedules, textbook details, and other relevant information for students to view. This guide outlines the process an Instructor or Course Section Director may take to edit their Syllabus Template.
Applicable to: Course Section Director, Instructor, Teaching Assistant

Step-by-Step...
Step 1: Log into your AEFIS account
Note: If integrated with a Learning Management System, Faculty may navigate to their Blackboard, Canvas, D2L Brightspace or Moodle Course, and then select AEFIS Tools* to launch their syllabus instead of logging directly into AEFIS. *Canvas partners may rename this link, so check with your AEFIS Administrator to determine the name of your AEFIS syllabus link in your Course.
Step 2: In your Dashboard, locate the My Courses and Syllabi Widget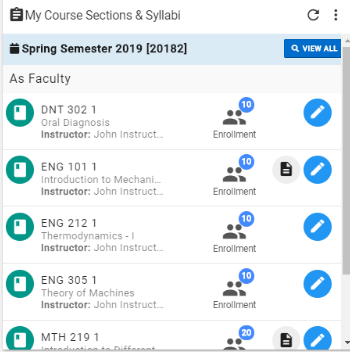 Step 3: Select the blue Pencil icon next to the Course Section in which you would like to work

Step 4: Navigate to the Course Syllabus link on the left menu once your Course Section loads
Step 5: Select the blue EDIT button in the top-right corner
Step 6: Make the desired edits to syllabus sections

Section Types that Can Not be Edited

Course Information + Instructor Sections

: These are pre-populated by data feeds from your Student Information system and are not editable. If you see an error here, please contact your institution's AEFIS Administrator so they can check the data feed.

Outcomes

: You may see Outcomes at the Course (CLO), Program, College, Department, Institution and/or Accreditor appear. These were inherited from Program Curriculum Maps or the parent Course, and therefore can not be edited.

Academic Policies

: These are inherited from your Institution, College or Department and are set by your administrators, and can not be edited.

Other Items: Your administrators may choose to create additional sections that are populated at the Course Catalog level, that can not be edited by faculty in the Course Section. If you have any questions about these, please contact your institution AEFIS Administrator
Section Types that Can Be Edited
Text/Memo Type Inputs

: This is the most common editable option you will see in your syllabus. The box below acts like any text editor - like a Word document. You may change fonts and layouts, add lists and bullet points, insert links or tables. We recommend not changing the colors of the font, though it is an option, so that your syllabus remains screen reader compliant.


You will see a bubble at the top right of the areas where you may input data, indicating whether the section is Optional or Required. If sections have no data, you may publish your course section. If sections have no data, you can not publish your section.
If you have no data to input for an section, that section will not display to students, as though it was not part of the syllabus at all.
At the bottom right corner of the input, you will see a small triangle in the corner of the text/memo box . Click on that triangle to pull the box to expand it and make it larger while editing so you can see all of your content on the screen.
Step 7: After you have made the desired edits, select the blue SAVE AND EXIT button.

Step 8: Once your syllabus edits are complete, and you are ready to release the syllabi to students for the first time, you may click the blue Publish button at the top right of the screen. You will be able to continue to edit and change the syllabus content by following steps 2-7 of this guide throughout the term, until your term/semester ends.


If you see the course section status change to Approval Pending rather than Published, that means that your institution has chosen to allow administrators to review the syllabi before releasing them to students.
If you do not see the blue Edit button available after your course section is in Published status, please contact your institution's AEFIS administrator. Example of what is expected once the course section is in Published status on the Course Syllabus page:
The syllabus will not be available to students until the course section is published.
Helpful Tips:
Exporting your Syllabi: If you would like to export your Syllabi upon completing your edits, you may do so by selecting the Export drop-down in the top right corner. You may export your Syllabus as a PDF or MS Word document. You may also select the Preview eye-con to view the Syllabus from a student's view.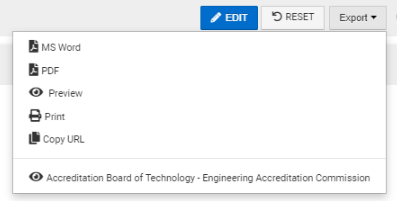 Reset Button: If you would like to delete all added data in the syllabi, select the Reset button in the top right corner of the Course Syllabus page.

Please note: The Reset button will delete all syllabus data and reset the content to the Course Syllabus defaults. Once deleted, the data cannot be recovered.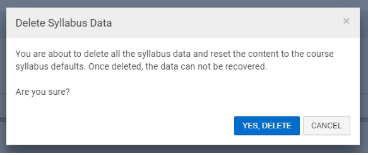 The reset button will only delete the information which was entered at the Course Section level. Information that is added on the Course level will remain untouched.