New Features
Updated Program Publishing Process

Revising of a program can impact more than one solution in AEFIS, Outcome Assessment (linking of assignments to outcomes) as well as Data Collections (e.g. assessment plan & reports). Due to this, we have added a new wizard when you re-publish the program.

Notification that your changes might impact one or more activity you have running

Decide whether you want the changes made to your curriculum map to reflect the current term assessment. By default, it is off, but the user can toggle to the right to enable.

Data Collection Form Impact

Keep existing form tied to the old program version (prior to you revising) with no changes

Create a new program form and migrate the populated data

This would mean that if a user started a form for the BS in Biology, then we would create a new BS in Biology form and migrate over all data entered by the user(s).

Create a new program form and start over with no populated data

This would mean that we create a new program form for BS in Biology and all data entered into the old form would be no longer available and the user would start with a blank form.

Great! You are ready to publish the revised program.

A brief list of what will be changed with be displayed.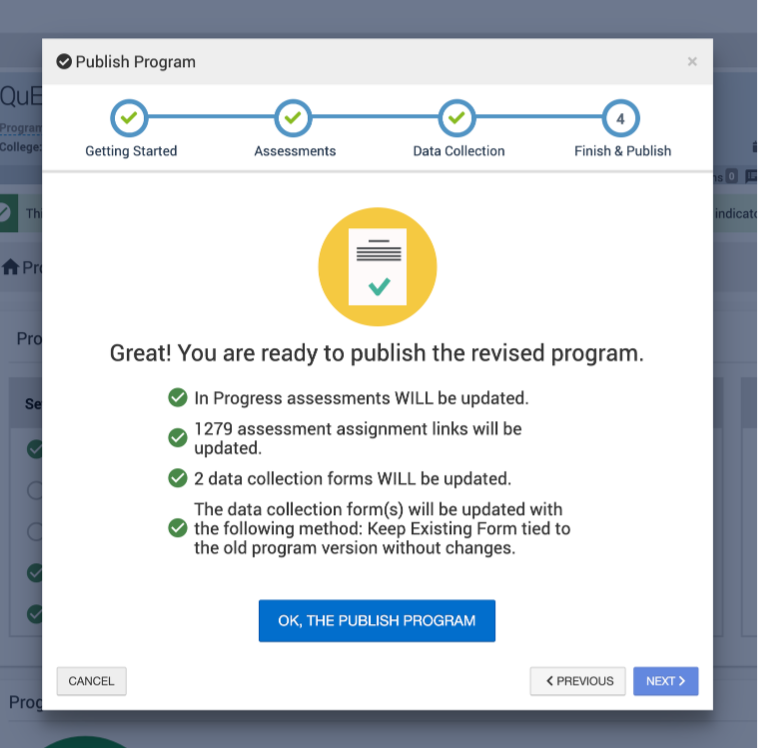 CLO Direct Assessment Analysis Report

This report has been added for our partners that are doing Course Learning Outcome Assessment. This will display the results of the assessment data based on a course section, course (roll-up of course sections), across a department or college.

Parameters Available:

Term (Multi-Select)

College (Multi-Select)

Department (Multi-Select)

Course (Choose one or more)

Course Section (Choose one or more)

Degree (Choose one or more)

Show only CLOs mapped to outcomes (Yes/No) - This for CLOs mapped to PLO, External Outcomes, College Outcomes or Institution Outcomes in the curriculum map

Improvements
Relate a Program to an Administrative Unit/Division

Previously our partners that created Support Unit Programs or Co-Curricular Programs were unable to relate them to the correct Administrative Unit and Division. This has been resolved and if you have one set up and need to relate it, revise the Program and save and re-publish.

Added Instructor Aggregate Level to the Student Course Evaluation Metric Trend Analysis Report

Preceptor Reminder Emails Added!

AEFIS only sent invitation emails to preceptors for when they need to create an account in AEFIS, we have now added reminders!
Self-Study Improvements
Removed Requirement to Assign Self-Study Editor before Starting a Self-Study

Sections within Self-Study no longer have the requirement to have an editor for every section.

Updated Self-Study Settings to allow the Self-Study Chair and/or Self-Study Liaison to update the notifications while the Self-Study is in "In Progress" status.

Client Support Team now is able to create all sections and the pre-defined content from the accreditor to the Self-Study Template

This will slightly change the process for our Self-Study Chair(s) but also allow more flexibility. When you request a Self-Study Template from the Client Support Team they will add the entire template to the Self-Study Templates page and then you will on the "Self-Study Manager" click + "Plan a Self-Study". This will then bring in the sections and pre-defined content from the accreditor.

The Client Support Team also has the ability now to add or remove sections from the self-study template in an easier which will help in case a section is not broken out to meet your expectations.

More changes to come here in v3.55!
Self-Study Section Numbers Previously Generated by AEFIS Removed
This was changed because for self-studies that are numbered by the accreditor already it was very confusing to the users.
Resolved Bugs
CSV, Excel and PDF export options resolved for the "Assignment Outcome Linking Outcome Result Report."

Instructor parameter resolved for "Direct Assessment Analysis and Assignment Outcome Linking Result Report."

College and department admins can no longer select "All Colleges" in the include or exclude rules in a "Survey Schedule."

Status of Faculty Portfolio resolved for "In Revision" status

Text wrap issue on "Practicum Forms" resolved

"Survey Results by Instructor Aggregate Page" is now filtering "Instructor Text/Memo" results according to Instructor.

Permission for preceptors scoring student submission in AEFIS assignments from within in a course section resolved.
Helpful Tips:
If you have any more questions or concerns, please do not hesitate to contact the AEFIS Client Success Team