---

HelioCampus has a new knowledge base to provide an expanded library of content and support usage of the Assessment & Credentialing platform!

Review this new knowledge base for improved help content related to Institution Survey Questions:

---
Updated: October 2021
Description: Institution Admin may create Survey Questions at the Institution Level in the Institution manager. This is an efficient method to ensure Institution-specific questions are being asked in all course evaluations if using the Rollup Placeholder Question type in your Surveys. The Rollup Placeholder allows an institution to provide a space for the Institution, College, Department, Course and Course Section to add their own questions to a survey, and those questions will only appear if the course section surveyed is owned by each level of the hierarchy. If using this question type, ALL Course Sections surveyed with a Placeholder question will receive the Institution questions. This allows each level of the hierarchy to customize questions and collect data longitudinally, while using an Institution-wide template. For more information about Survey Question types, click here.
Applicable to: Institution Admin
Step 1: Log into your AEFIS account
Step 2: Navigate to Organizational Hierarchy > Institutions
Step 3: Select the Manage button on the right hand side of the applicable Institution
Step 4: Select the Survey Questions button in the panel on the left hand side
Step 5: Select the blue START PROCESS button to begin the process of adding survey questions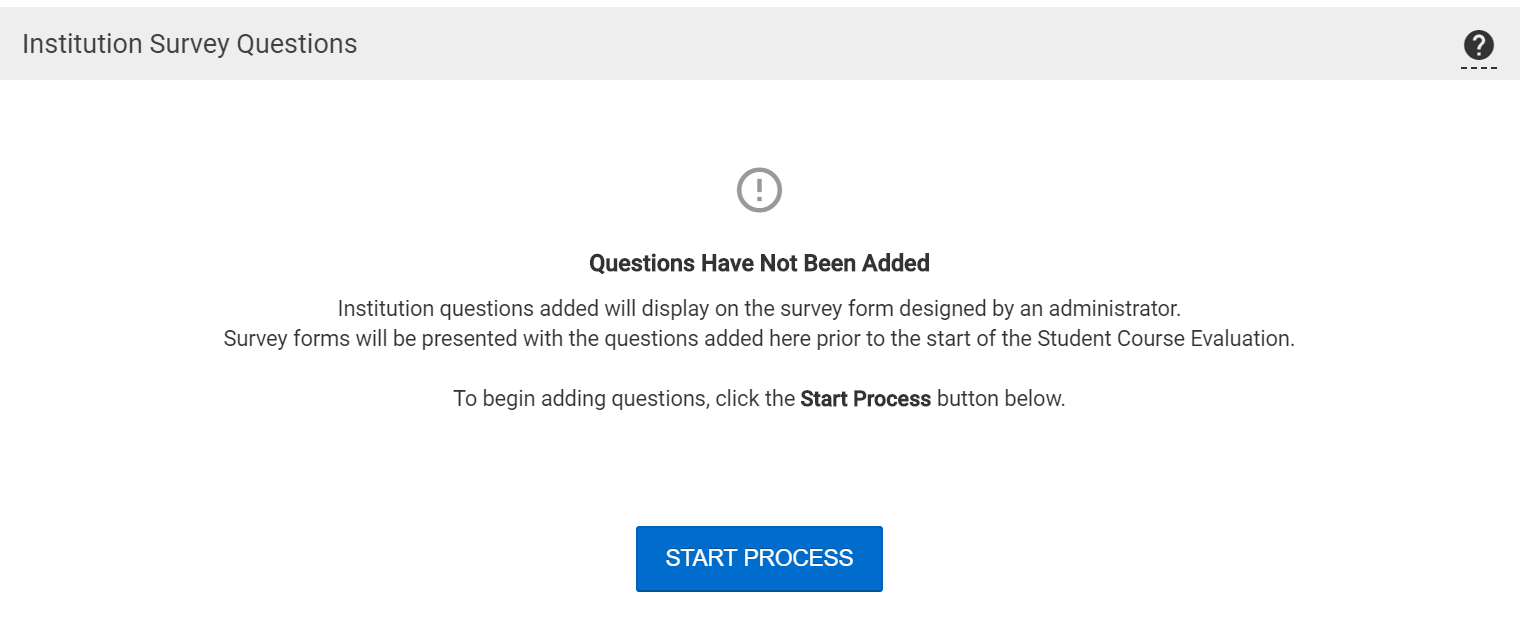 Step 6: You will be redirected to the Survey Section and select the blue EDIT button in the right-hand corner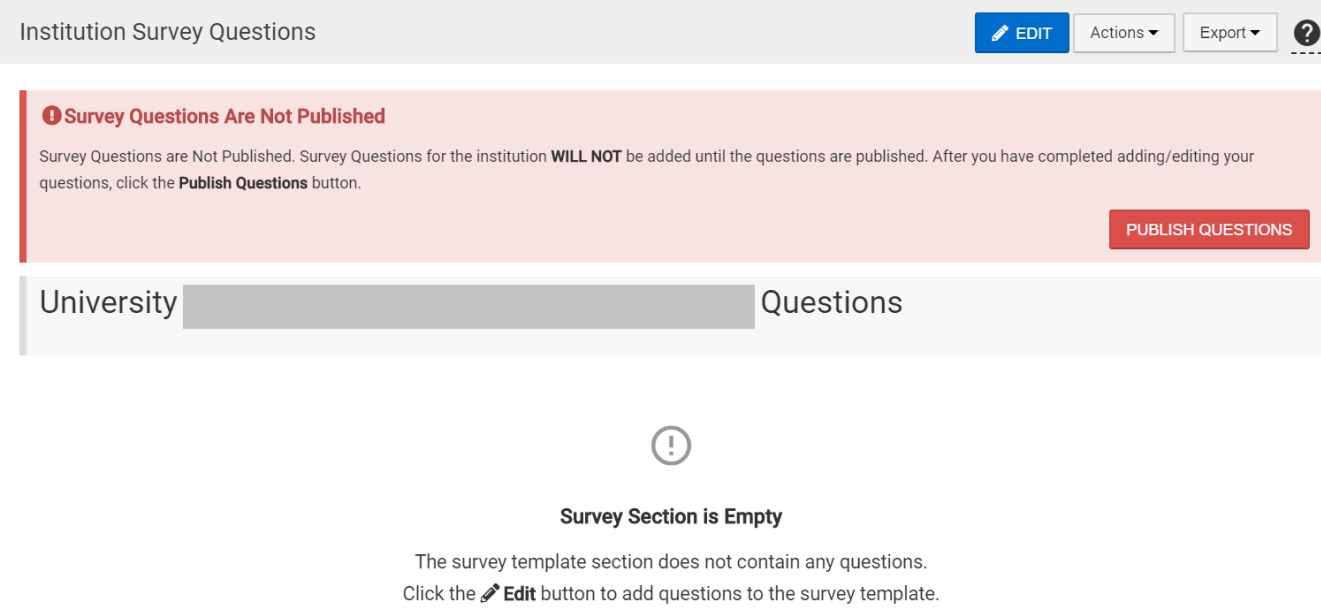 Step 7: Select the blue

button on the upper right hand side to add questions
Step 8: Select the desired question type from the provided options
Please Note: If you would like to learn more about Survey Questions, please see the following AEFIS Academy Guide on Survey Question Types.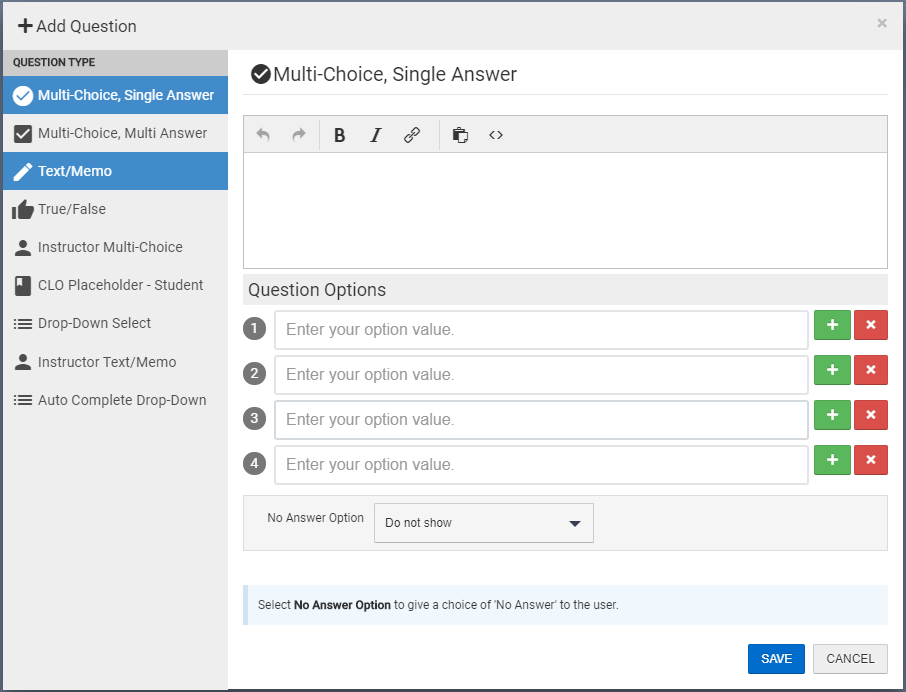 Step 9: Populate the following fields with the desired question content and/or question options
Step 10: Select the blue SAVE button on the bottom right
Step 11: Create additional questions by selecting the

button on the upper right hand side
Step 12: Select the blue EXIT button after creating all desired questions
Step 13: Select the red PUBLISH QUESTIONS button once all survey questions are created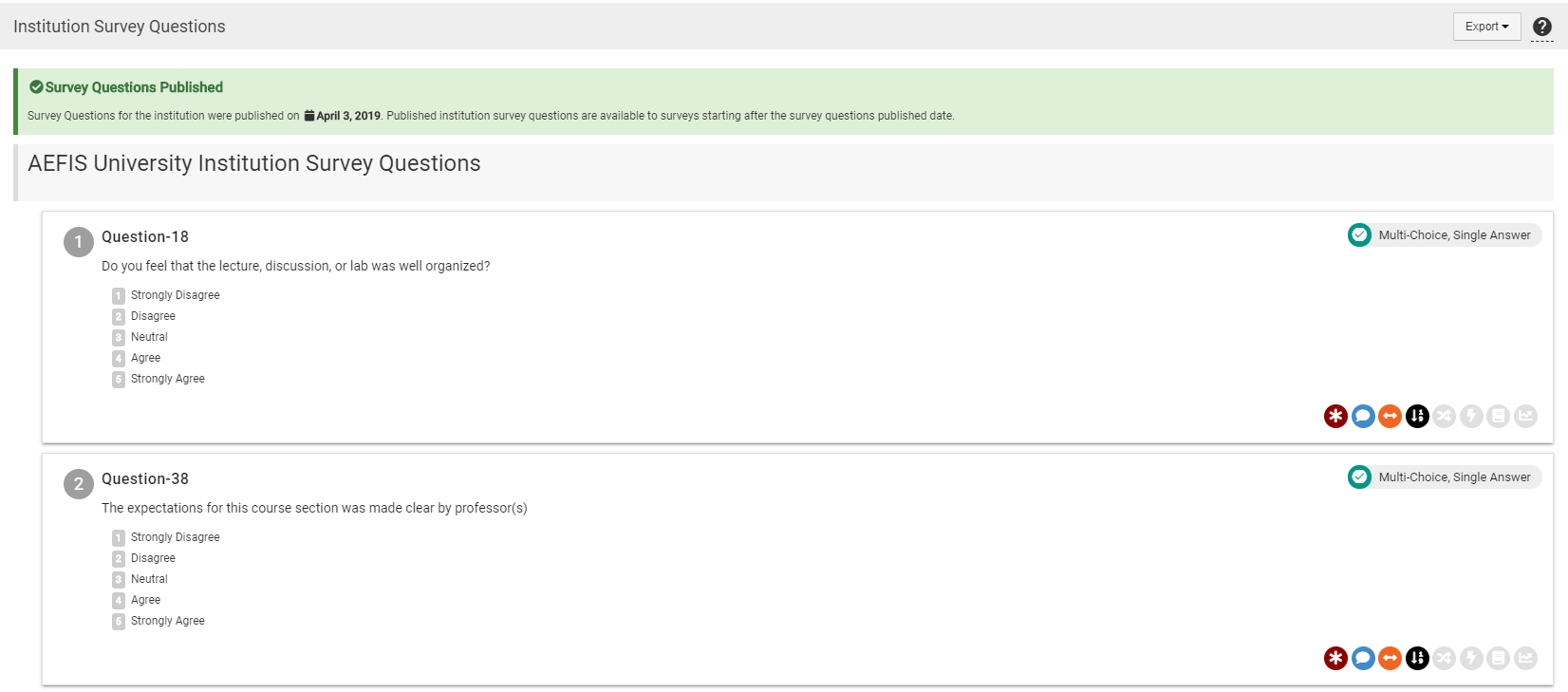 Please Note!! After questions have been published, they cannot be unpublished. If you would like edit or add questions before survey(s) are deployed to survey participants, please contact the AEFIS Client Success Team.
Helpful Tips:
After these Survey Questions have been published, they will be pulled into all applicable course evaluations by using the Roll-up Question Placeholder when designing the survey template.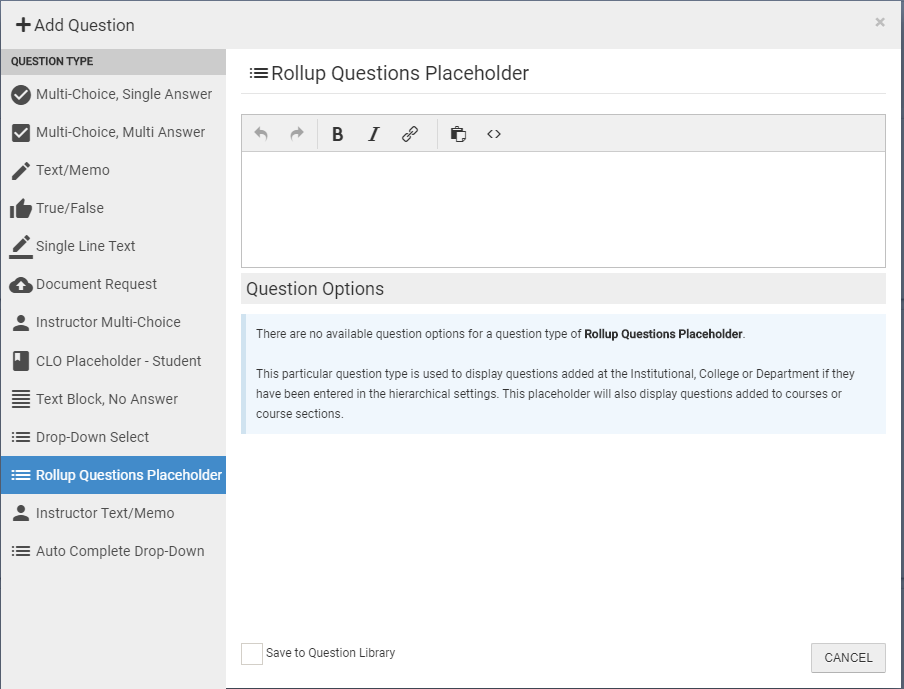 Note: Questions must be added to the Institution prior to the ACTIVATION of your survey to pull the questions into the survey. Be aware of this timing as you roll out this feature.