The purpose of this guide is to provide admin with the steps to assign an instructor to a specific Course Section. If an instructor's information is not already imported through the data feed, admin are able to create an AEFIS account for an instructor before assigning them to desired course sections.
Created with v3.53
Applicable to: Institutional Admin and College Admin
Quick Video...
For best video quality, select settings gear icon in the bottom of the video, select Quality > 1080p HD
Step-by-Step...
Step 1: Log into your AEFIS account
Step 2: Select the three white horizontal lines in the top left hand corner to open the AEFIS Main Menu
Step 3: Navigate to Admin Tools > User Accounts
Step 4: Select the blue +ADD USER button in the top right corner

Step 5: Select applicable User Type
Step 6: Populate the applicable User Information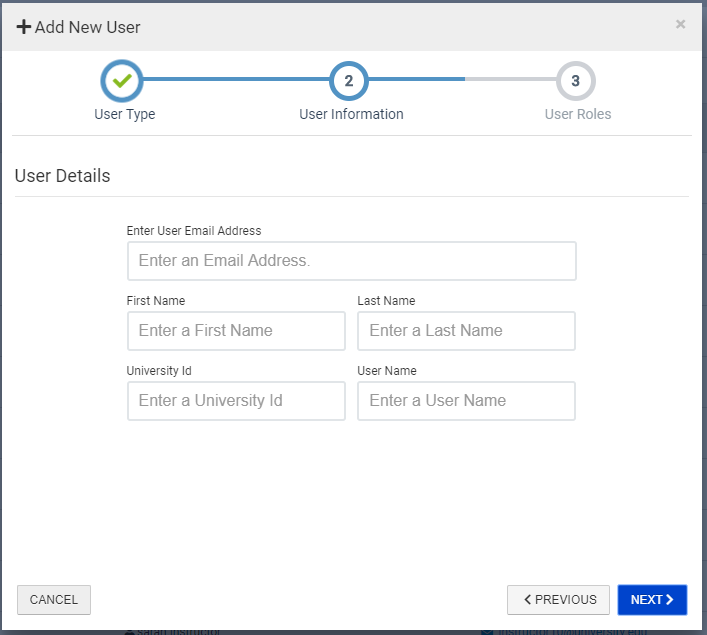 Note: The User Name field corresponds with the User Name used for your University's Single Sign-on (SSO)
Step 7: Select the Course Director User Role from the drop-down menu
Please Note: While this user may not specifically be a Course Section Director, adding this role allows any of the four instructor types to be added to this account on the Course Section Instructors page.
Step 8: Select the blue +ADD ROLE button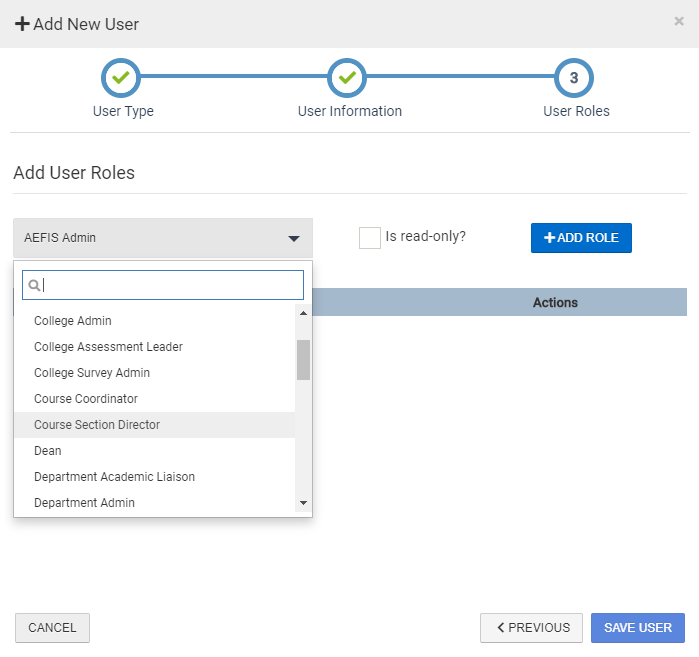 Step 9: Select the blue SAVE USER button on the bottom right hand side
Note: If you would like to learn more information about user accounts and roles in AEFIS, see the AEFIS Academy guide on How to Add User Accounts and Edit User Roles in AEFIS.
Step 10: After creating the user account, navigate back to the AEFIS Main Menu
Step 11: Select Courses > Course Sections
Step 12: Use either the +Add a Filter or the search bar to locate the desired course section to which you would like to assign the instructor
Step 13: Select the Manage button on the right hand side

Step 14: Select the Course Section Instructors tab in the panel on the left hand side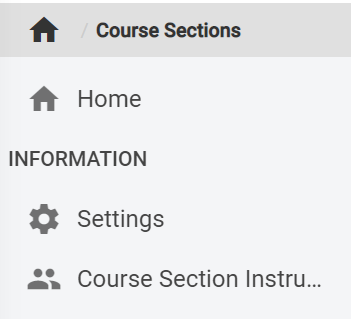 Step 15: Select the blue +ADD INSTRUCTORS button on the right hand side
Step 16: Search for the applicable instructor and select the Instructor type from the drop-down menu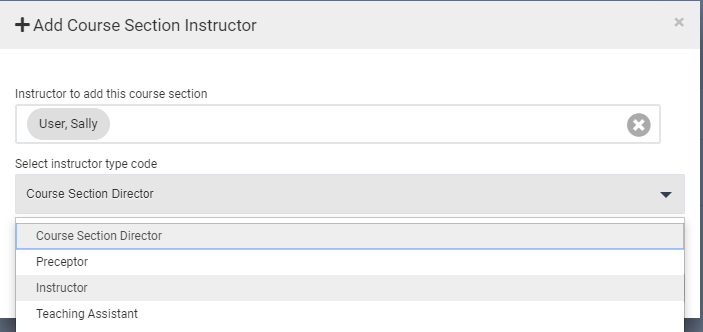 Step 17: Select the blue SAVE button
Now, from the User Accounts page, you will be able to see the Instructor role and the course section(s) to which the instructor is assigned.

Helpful Tips:
If you have any more questions or concerns, please do not hesitate to contact the AEFIS Client Success Team