Students are able to submit assignments directly in AEFIS for a course, and this guide will explore the steps that students will take to submit the necessary assignments and view their respected rubric criteria for each assignment.
Applicable to: Students
Quick Video...
Note: This video does not contain audio
Step-by-Step...
Step 1: Log into your AEFIS account
Step 2: Your Action Items pop-out window will appear. In this window, you will:
Navigate to Assignments To Submit
Select the blue pencil icon to open the desired Assignment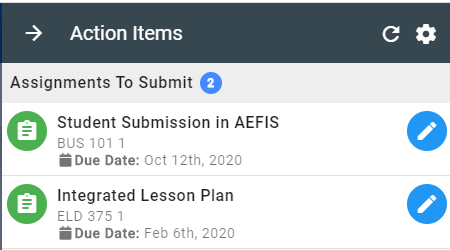 or
Alternate Step 2: Navigate to the My Assignments widget on your AEFIS Dashboard
Select the blue pencil icon (Continue Form)

Step 3: In the Student Submission in AEFIS section of the Assignment, you will have the opportunity to review due dates, review the Grading Criteria, and add any additional notes

Step 4: Complete the Assignment according to the directions.
Step 5: Upload any additional documents in the Add Your Attachment(s) section at the bottom of the page
Step 6: Once you have completed the assignment, select the blue I'M FINISHED, SUBMIT button
Alternate Step 6: If you wish to complete your assignment at a later time before the assignment deadline, select the SAVE AND CONTINUE LATER button.
Helpful Tips:
If you have any more questions or concerns, please do not hesitate to contact the AEFIS Client Success Team