Updated: December 2021
Description: Students are able to submit work for assignments directly in AEFIS for a course when a AEFIS Assignment with Student Submission option is selected, and this guide will explore the steps that students will take to submit the necessary assignments and view their respected rubric criteria for each assignment.
Applicable to: Students
Step-by-Step...
Step 1: Log into AEFIS
Step 2: Action Items pop-out window will appear. In this window, you will:
Navigate to Assignments To Submit
Select the blue pencil icon to open the desired Assignment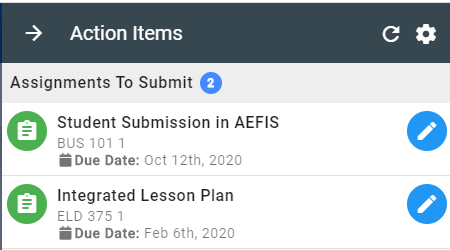 or
Alternate Step 2: Navigate to the My Assignments widget on the AEFIS Dashboard
Select the blue pencil icon (Continue Form)

Step 3: In the Student Submission in AEFIS section of the Assignment, you will have the opportunity to review due dates, review the Grading Criteria, and add any additional notes

Step 4: Complete the Assignment according to the directions.
Step 5: Upload any additional documents in the Add Your Attachment(s) section at the bottom of the page
Step 6: Once you have completed the assignment, select the blue I'M FINISHED, SUBMIT button
Alternate Step 6: If you wish to complete your assignment at a later time before the assignment deadline, select the SAVE AND CONTINUE LATER button.