The creator of a survey is assigned as the survey owner by default. However, Admin have the ability to change the survey owner accordingly.
Applicable to: Institutional Admin
Quick Video...
Note: This video does not contain audio
Step-by-Step...
Step 1: Log into your AEFIS account
Step 2: Select the three white horizontal lines in the top left hand corner to open the AEFIS Main Menu
Step 3: Navigate to Surveys > Survey Templates
Step 4: Use either the +Add Filter or the search bar to locate the desired course
Step 5: Refer to the Manage button on the right of the screen and select the drop-down arrow
Step 7: Select on Edit Owner
Step 8: Select appropriate department in which the survey owner belongs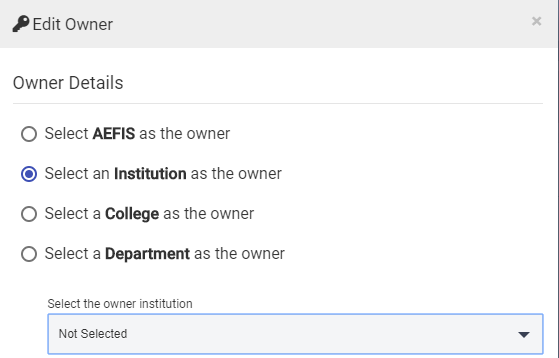 Step 9: Select the drop down menu under the owner details prompts to identify specific survey owner
Step 10: Select the blue SAVE button once survey owner is chosen
Helpful Tips
If you have any more questions or concerns, don't hesitate to contact the AEFIS Client Success Team.