Updated: June 2021
Description: The "Copy From" functionality in AEFIS allows you to copy the Assignments, and/or Assignment Linking from one Course/Co-curricular Section to another. This tool is useful for Course/Co-curricular Sections using similar course materials across terms or within the same term. This is especially useful to instructors who teach multiple sections of the same course, or administrators managing the Assignment Linking process for a Program with common key assessments.
Applicable to: Institution Admin, College Admin, Department Admin, Course Coordinator,
Instructors*, Course Section Directors*

*Instructors and Course Section Directors may only copy Section data from Sections where they are the instructor of record in AEFIS. They will not have access to copy from Sections they are not assigned to.


Quick Video...
Note: This video does not contain audio
Step-by-Step...
Step 1: Log into your AEFIS account
Step 2: Select the three white horizontal lines in the top left-hand corner to open the AEFIS Main Menu
Step 3: Navigate to Educational Experiences > Course Sections
Step 4: Use either the +Add Filter or the search bar to locate the desired course
Step 5: Select the Manage button on the right-hand side
Step 6: Refer to the Actions drop-down menu on the right-hand side and select Copy From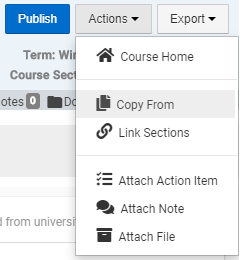 Step 7: Select the course to copy from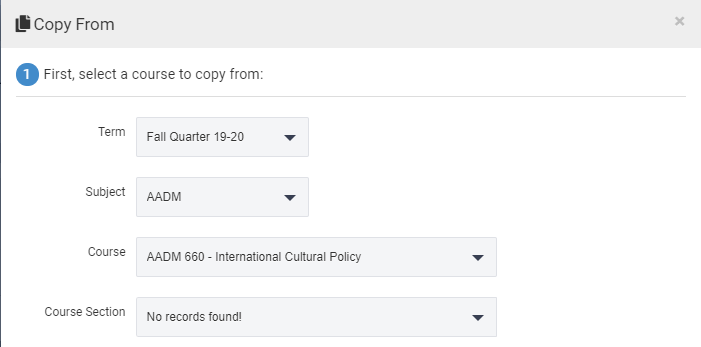 Please Note: You can only copy over assignments and assignment linking from other course sections of the same course.
Step 8: Select the attributes you would like to copy to current course section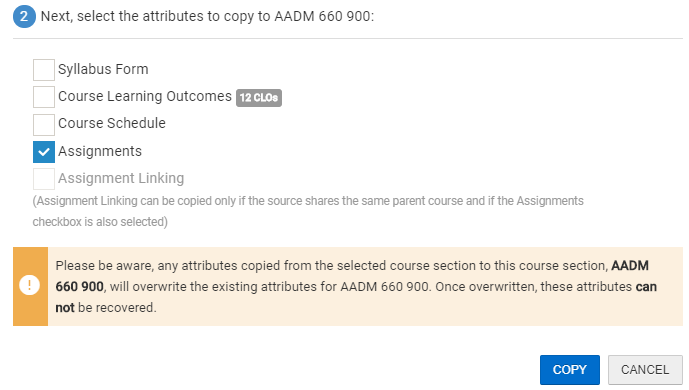 Step 9: Select the blue COPY button on the bottom right
Helpful Tips:
You are only able to access the 'Copy From' option in sections within terms that are currently in progress. Please be aware, any attributes copied from the selected course section will overwrite the existing attributes of the desired course section. Once overwritten, these attributes can not be recovered.