Updated: July 2022

Description: The Rubric Library in AEFIS is a warehouse where rubrics across the institution can be created and stored until utilized in assignments across different courses and course sections. This feature provides admin and instructors the flexibility to build out any new rubric criteria or translate any existing rubric criteria that have been standardized across one's institution.
Applicable to: Institution Admin, College Admin, Department Admin, Course Coordinator, Course Section Director, Instructor

Step-by-Step...
Step 1: Log into your AEFIS account
Step 2: Select the three white horizontal lines in the top left-hand corner to open the AEFIS Main Menu
Step 3: Navigate to Educational Experiences>Rubric Criteria Library
Step 4: Select the blue +ADD RUBRIC CRITERIA button in the top right-hand corner
Step 5: Fill out the necessary Rubric Criteria Fields:
Rubric Criteria Name
Rubric Criteria Description
Rubric Level Name(s)
Rubric Level Description(s)
The Points or Point Range associated with each rubric
Add a Not Applicable Rubric Criterion level

This allows the instructor to exclude the rubric criterion and its associated max points from the total points in an assignment, as to not penalize a learner for not being given the opportunity to demonstrate a skill - for example in an experiential placement.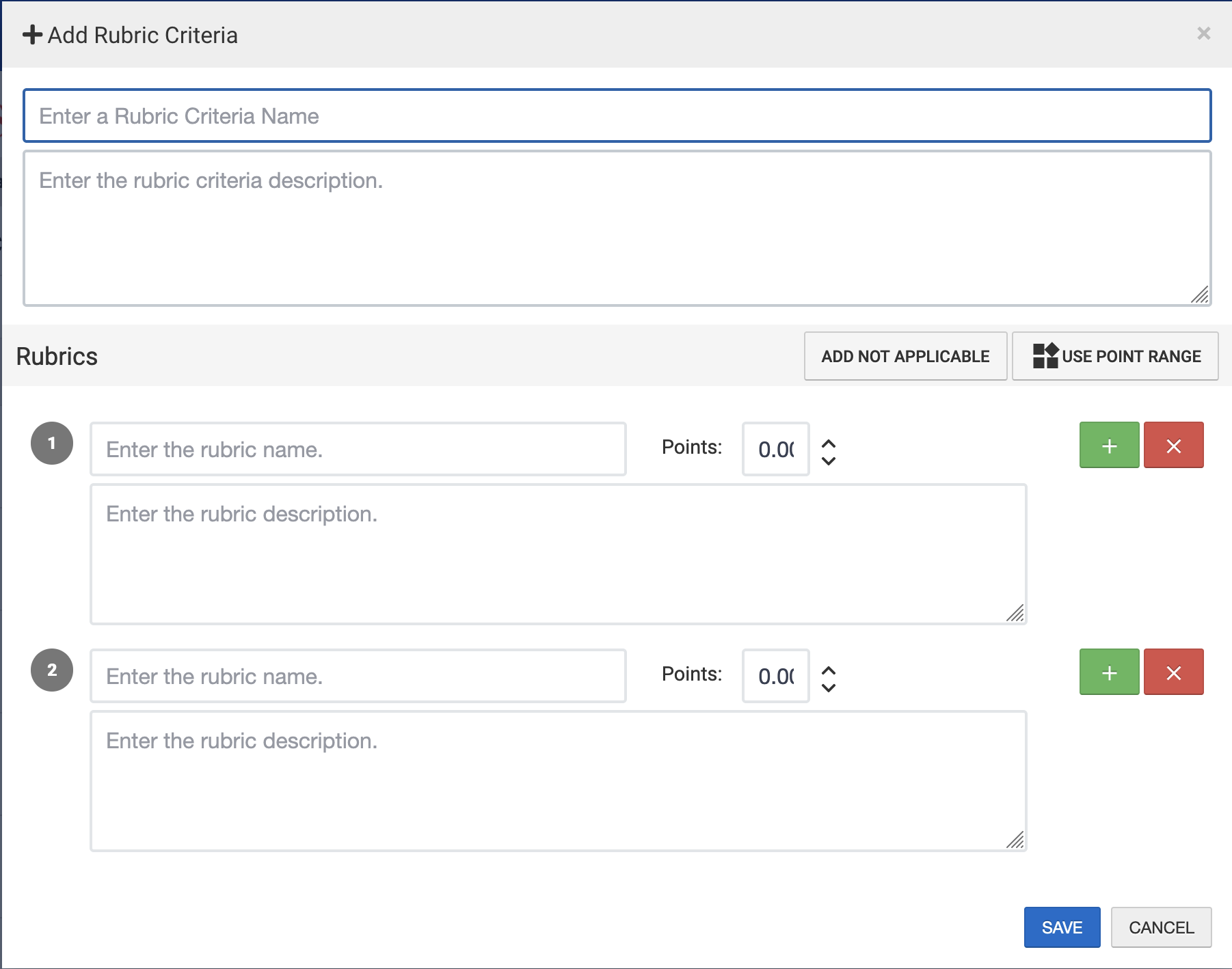 Step 6: Use either the green + sign to add a rubric or use the red x sign to delete a rubric
Step 7: After you have added the desired information to each rubric field and the overall rubric criteria, select the blue Save button
Step 8: (Optional) Once the Rubric Criteria is saved, you may select the arrow next to the grey Edit button for your Rubric Criteria and you will have several choices that are helpful to organize your criteria and simplify creation of new criteria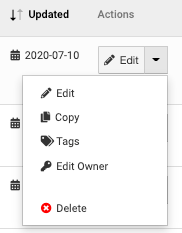 Edit: This allows you to edit or change any of the criteria levels or points
Copy: This allows you to create a copy, which is helpful when you are creating several different criteria with the same levels and point values, but differing content
Tags: You may tag your criteria with keywords to make them easily searchable in Assignments and Assignment Templates
Edit Owner: You may change the owner in your hierarchy (based upon your role) to limit access to your rubric criteria, or specify it as belonging to a specific College or Department
Delete: This will allow you to delete the criteria if created in error or no longer valid