Updated: December 2021
Description: This guides explores the functionality of creating and saving rubrics that are used to score assignments within AEFIS. Keep in mind new rubrics are created one criterion at a time, so this guide will provide instructions on that functionality.
Applicable to: Institution Admin, College Admin, Department Admin, Course Coordinator, Course Section Director, Instructor
Step-by-Step...
Step 1: Log into your AEFIS account
Step 2: Select the three white horizontal lines in the top left-hand corner to open the AEFIS Main Menu
Step 3: Navigate to Educational Experiences>Course Sections or Co-curricular sections
Step 4: Use the +Add Filter or the search bar to locate the desired section
Step 5: Select Manage in the corresponding row of the desired course section
Step 6: Select the Assignments tab in the panel on the left-hand side
Step 7: Locate the desired assignment, for which you would like to create a rubric
Step 8: In the corresponding row of the desired assignment, hover over the blue icon with the three white vertical dots
Step 9: Select the Assignment Home icon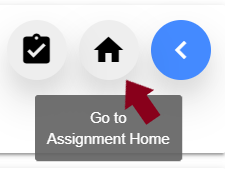 Step 10: Navigate to Information>Scoring Criteria
Step 11: Select the blue Edit button in the right-hand corner, and the rubric editor screen will open
Step 12: Click the grey + Add Rubric Criteria
Step 13: Determine whether the following rubric criterion settings are appropriate for this criterion

:
Add not applicable

: This allows you to add a criterion level that nullifies the criterion. In cases where there was no option to observe the demonstration of that skill, or it does not apply in this particular student work, this option will allow you to exclude the entire value of that rubric criterion from the overall score. When selected, the total possible points for the assignment will decrease for that specific student. This option is used frequently in experiential environments where evaluation or demonstration of a skill may not always be available based on the situation/observation scenario.

Use Point Range

: If you would like to assign a point range to each criterion level instead of a static number value, you will select this option.
Step 14: Fill out the necessary Rubric Criteria Fields:
Rubric Criterion Name
Rubric Criterion Description
Rubric Level Name(s) - The title of each level
Rubric Level Description(s) - Describe the criteria required to meet that level of achievement
Rubric Point(s) - distribute how much each criterion level is worth from lowest to highest
Step 15: Use either the green + sign to add a rubric or use the red x sign to delete a rubric
Step 16: (Optional): Use the Save to Rubric Library Toggle, if you or others would like to use this rubric criteria for future assignment grading
Step 17: After you have added the desired information to each rubric field and the overall rubric criteria, select the blue Save button