Updated: May 2021
Applicable to: Institutional Admin, Department Admin, College Admin, and Faculty
Description: Admin and faculty have the ability view course section assessment results. While an assessment is in progress or when the assessment for a course section has been completed, you can review both individual and aggregate assessment results within AEFIS at the course section level. This guide will show how to access and view a course section's assessment results.
Section One: Viewing Course Section Assessment Data
Step-by-Step...
Step 1: Log into your AEFIS account
Step 2: Use the three white horizontal lines in the top, left-hand corner to open AEFIS Main Menu
Step 3: Click Courses > Course Sections
Step 4: Use the + Add Filter option or the search bar to locate the desired course section
Step 5: Click the "Manage" button in the same row of the corresponding course section you would like to review
Step 6: Select the "Assessment Data" link in the panel on the left-hand side
Step 7: Navigate the Assessment Data page to identify which assessment results you would like to view
Note: You may see multiple options to review assessment data on this page. We will review each section below.
Program Assessments: Displayed in this section you will find the links to view the Assessment results for the Program(s) outcomes assessed in your course section, by Program name.



Course Assessment: If you are also assessing your Course Learning Outcomes separately from Program Outcomes, if any, a section will display to allow you to view those results.


Related Program Assessments: If the faculty of record assigned to the course section you are viewing taught this section in a previous term, and in that term, their course sections were part of a program assessment, access to the past section assessment data is available in this area.


Step 8: Once you select which results you would like to view, you will have two options to choose from.
a.

Individual Results: This will provide you with the results for each student by outcome.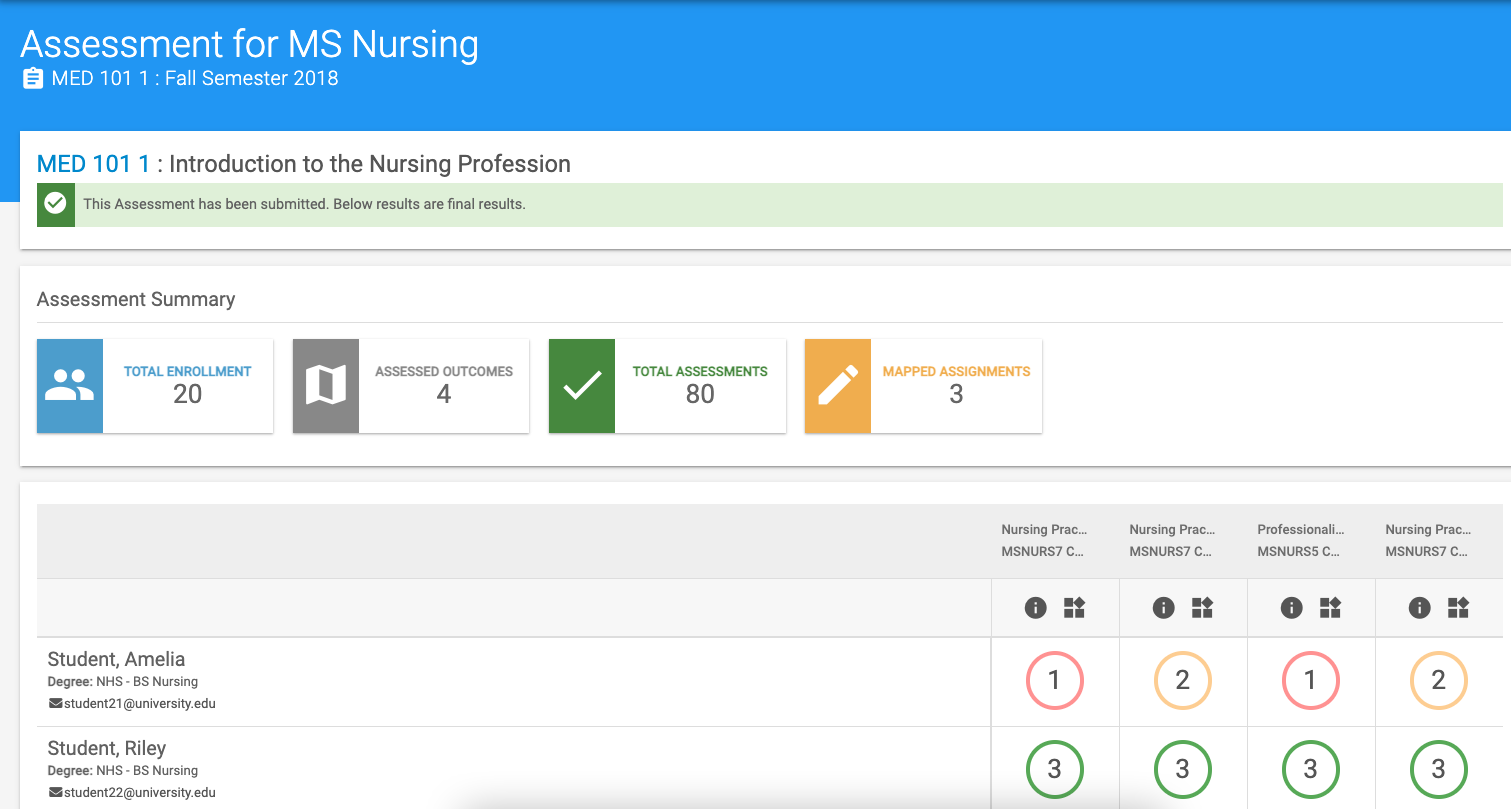 If you click on one of the outcome performance level numbers -

at the cross-section of student and outcome, a menu containing additional details will open on the right displaying Program rubric criteria, assignment weighting, faculty comments, and student artifacts, when available: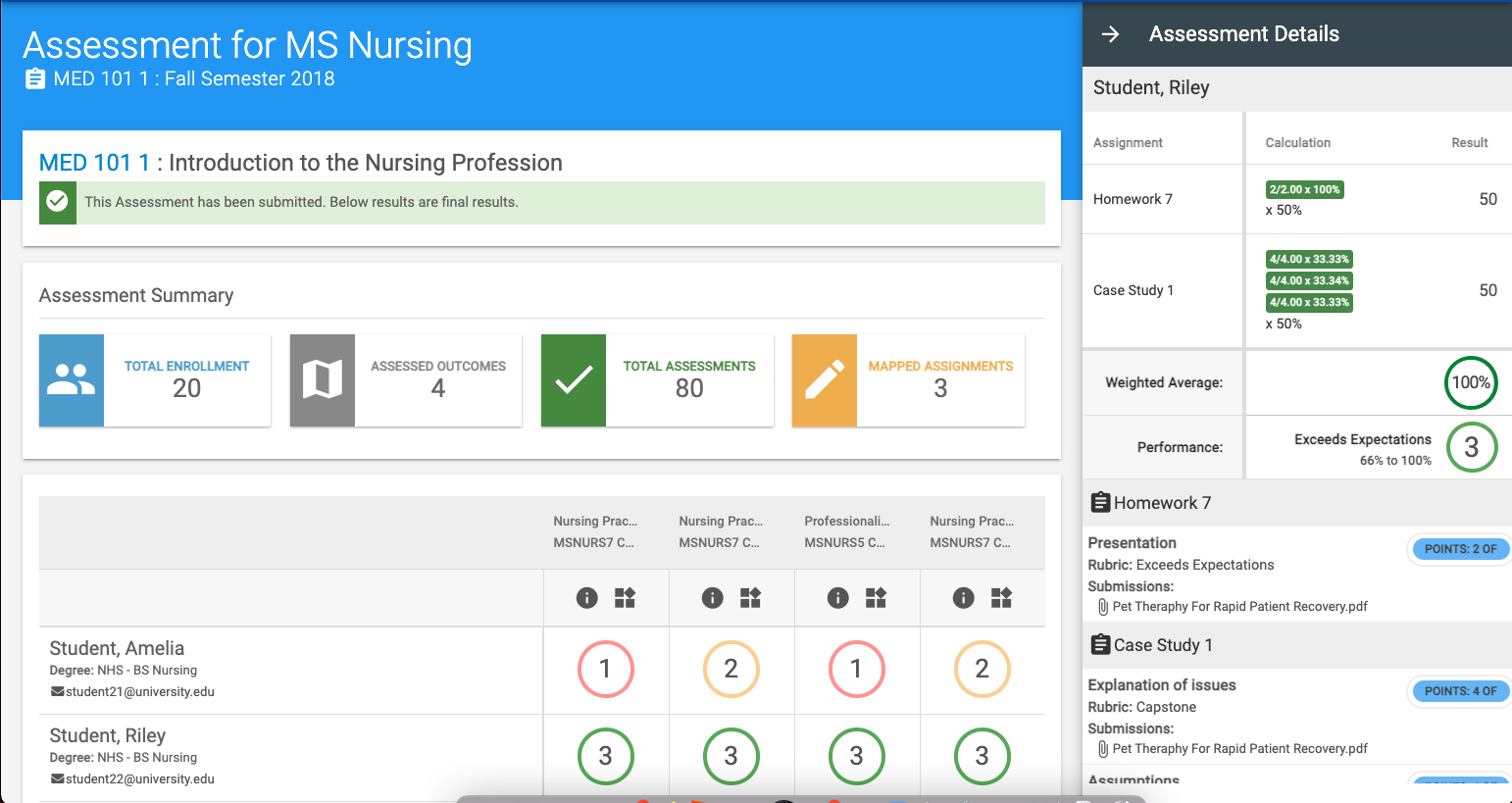 b.

Aggregate Results: This will provide you with a view of aggregated student outcome assessment data by outcome: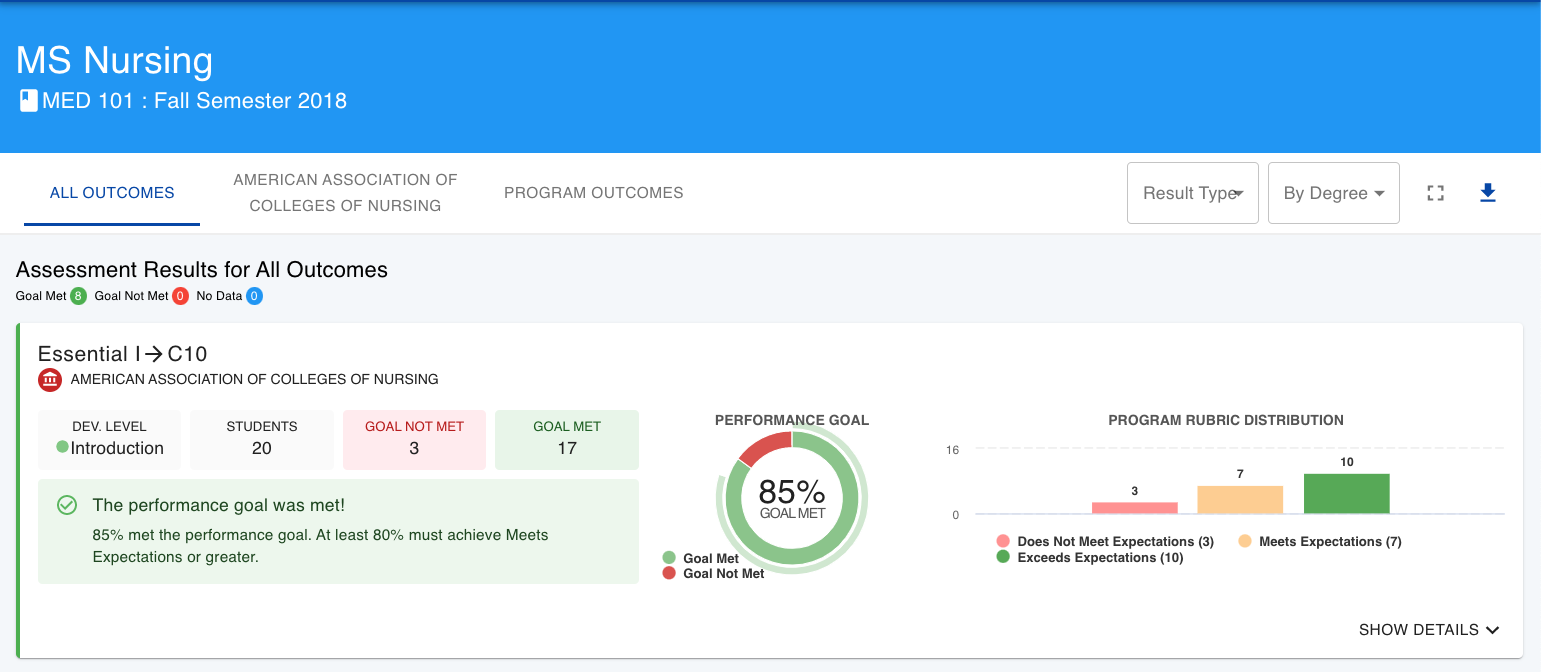 You may toggle this screen by the type of outcome by selecting one of the options at the top right. You can also disaggregate the data by the student major/degree by using the By Degree drop-down item at the top right.
To view additional details about the assignments that were linked and fed data to this outcome, you may click the Show Details link at the bottom right of the outcome

and the following display will unfold: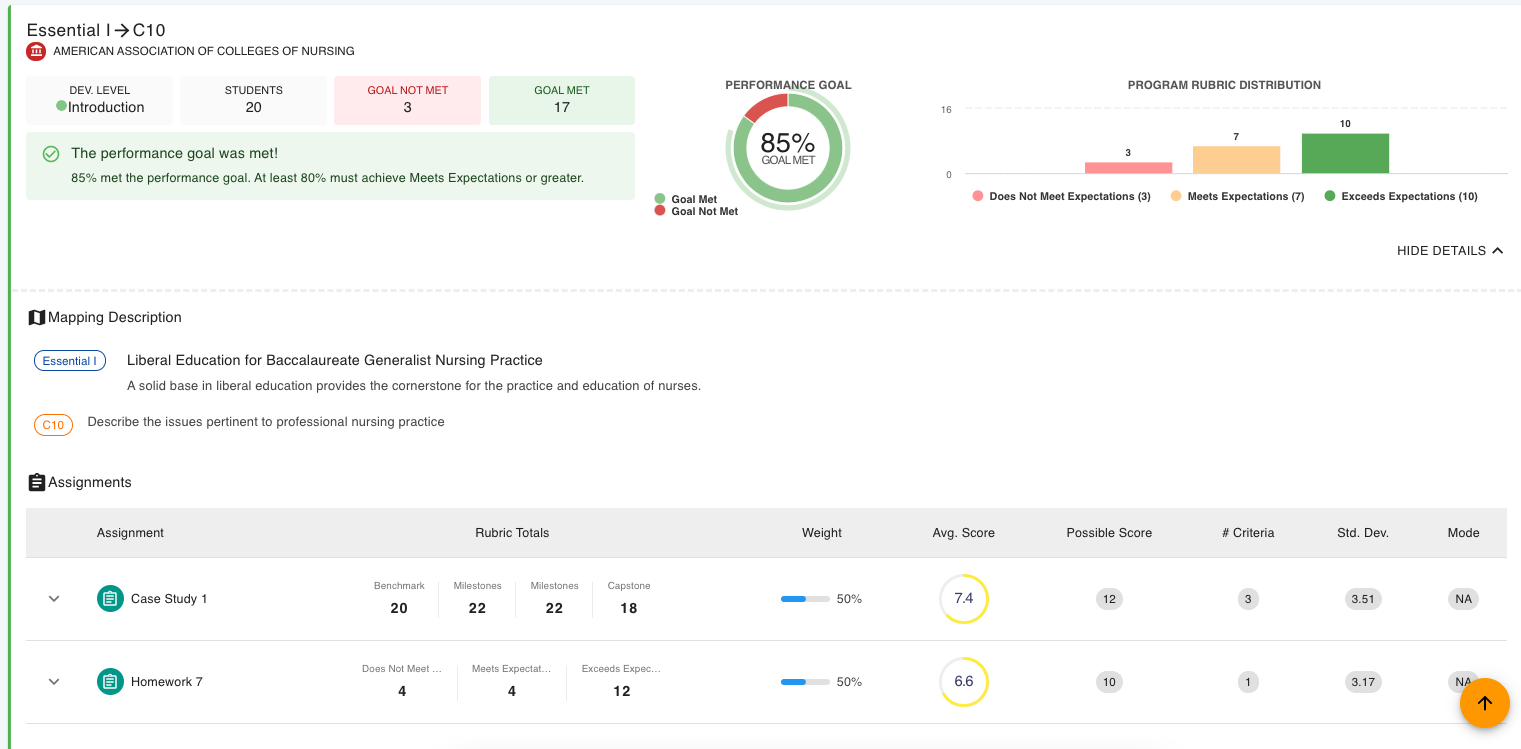 You may then click on each assignment to reveal any additional data - such as assignment rubric criteria (AEFIS Assignments, Canvas Assignments, D2L Assignments) or quiz questions (Canvas Assignments):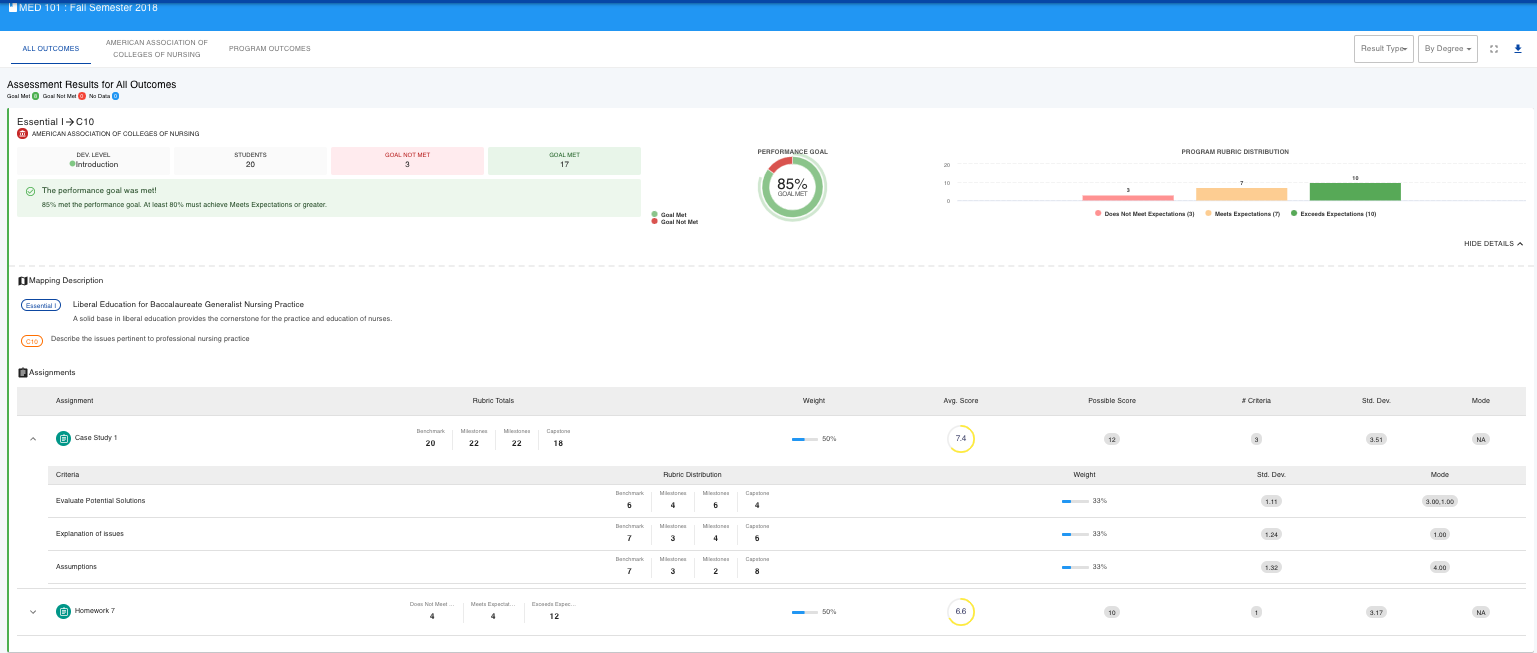 Not seeing any data, or the data you expected on these reports?

Then you may move on to Section 2 of this guide!
Section 2: Refreshing Assessment Results
Step by Step
Step 1: Navigate to the Assessment Data page in your Course section
Step 2: Click the Individual Results

icon in the Assessment category you would like to refresh (Program Assessments or Course Assessments).

Step 3: At the top of the Individual Results screen, you will see text describing the time and date of the last assessment data refresh. Click the blue Refresh Assessment Data button to prompt AEFIS to look for scoring data in your Learning Management System, or in the AEFIS scorebook.


If new or updated scoring data is available, the updated individual results will display below.

Not seeing the assessment data last updated message? This is likely because the Assessment is closed. If you have administrative access to your Programs, you may use this guide to reopen your Assessment then refresh the data.

Troubleshooting

No Assessment Results populated on the Individual Assessment Data Report Screen

1. Use Section 2 of this guide to refresh your individual results
2. Click the Link Assignments button at the top of the Individual Results screen and check to make sure assignments are linked to outcomes

3. Check the grade book in your Learning Management System to make sure that the student scores are present for your linked assignments
4. If using AEFIS Assignments, use the Score Assignments link at the top of the Individual Assessment Data report screen to make sure that scores are present for linked assignments

No Assessment Results populated on the Aggregate Assessment Data Report Screen
1. First check to see if individual results are present in the Individual Results report
2. Check when the students were scored. AEFIS only aggregates assessment data 3x per day - at 7 AM, 2 PM, and 7 PM - in your local time zone. If the students were just scored and the individual results were just updated, the aggregated data will not populate until the next aggregation process runs in your AEFIS system.
3. Check to see if all students are scored either in AEFIS or your Learning Management system. If students are only partially scored, your AEFIS system may have an Assessment setting enabled at the Institution, College or Department level that does not allow for the aggregation of results scoring data is not present for one or more enrolled students. Please reach out to your institution's AEFIS Administrator to review this setting.
Still not seeing results? Please contact your institution's AEFIS Adminstrator. If you are the AEFIS Administrator, you may contact support@heliocampus.com for help!