An assessment within AEFIS has the function to pull in more than one course sections to evaluate. Admin and faculty have the ability to narrow down and view a course section's assessment results. While an assessment is in progress or when the assessment for a course section has been completed, you can review results within AEFIS. This guide will show how to access and view a course section's assessment results without the hassle of combing through a plethora of other assessment results.
Applicable to: Institutional Admin, Department Admin, College Admin, and Faculty
Quick Visual Overview...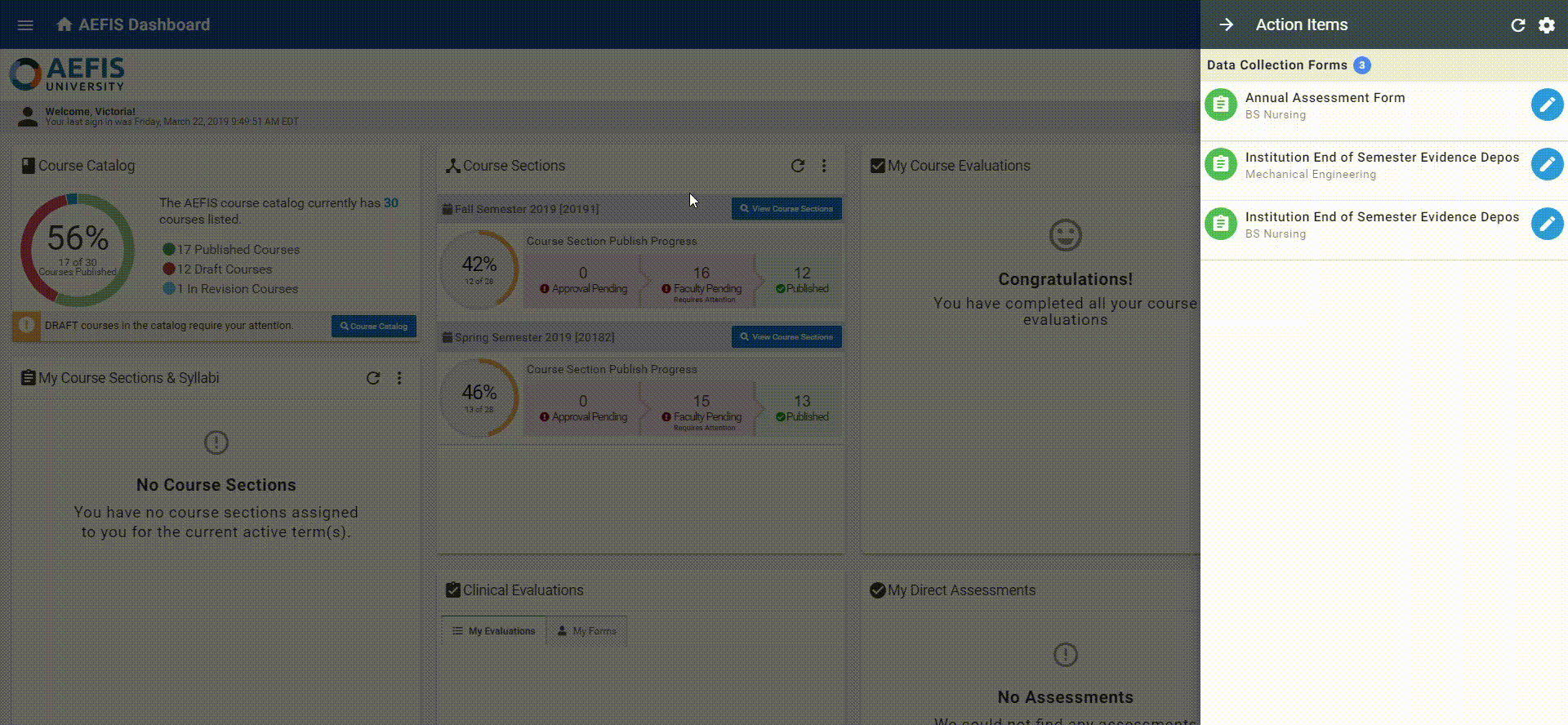 Step-by-Step...
Step 1: Log into your AEFIS account
Step 2: Use the three white horizontal lines in the top, left-hand corner to open AEFIS Main Menu
Step 3: Click Courses > Course Sections
Step 4: Use the + Add Filter option or the search bar to locate the desired course section
Step 5: Click the "Manage" button in the same row of the corresponding course section
Step 6: Select the "Evaluation Results" tab in the panel on the left-hand side
Step 7: Select the "Results" button in the same row of the corresponding assessment, for which you would like to view results.
Step 8: You will be brought to survey aggregate results for the course section. However, if you would like to view individual results, press the blue "individual Results" on the right-hand side.
Step 9: Use the Browse Result drop down to access individual responses
Note: Press the blue "View Aggregate Results" button to return back to the overview of the assessment's results
Recommended Materials/Tools
If you have any specific question about a particular setting, select the corresponding question mark on the AEFIS site.
Helpful Tips
You can access and view aggregate and individual assessment results when the status of the assessment is "In Progress" or "Completed."
If you have any more questions or concerns, don't hesitate to contact the AEFIS Client Success Team.