Updated: February 2022

User Roles: Course Section Director, Instructor (must also be the instructor on the Canvas section)
Applies to: Course Sections, Co-Curricular Sections
Outcome: The faculty member will be able to connect their Canvas Assignments to AEFIS outcomes after authorizing
Description: If your AEFIS-Canvas integration is configured to require faculty permission for AEFIS to pull Assignment data from Canvas, the faculty may follow these instructions to complete the authorization process once per course section.
Step by Step
Step 1: Login to your university's Canvas instance
Step 2: Navigate to your course in Canvas
Step 3: Launch your AEFIS LTI link**
**If you do not have an AEFIS link, or are unsure where to find it, please contact your institution's Canvas administrator. Links to AEFIS in Canvas may not have "AEFIS" in the name on the link as they can be customized by your Canvas administrator.
Step 4: If you see the authorization screen below when your AEFIS Course Section loads within Canvas, you may select Go To Authorization:

If you see a different screen like the one below, please click on the AEFIS menu icon

within the blue banner on that screen.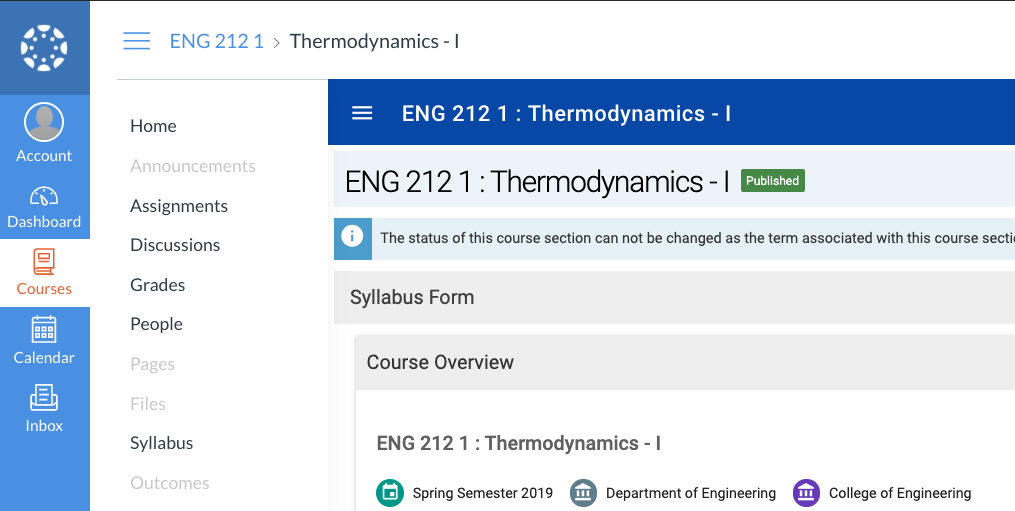 When the menu opens, select Assignments or Assignment linking from the Assessments section:

You will then see the authorization prompt appear.
Step 5: After clicking "Go To Authorization" if you are redirected to your institution's single sign on/sign in page, you may enter your credentials. If you are not prompted to log in to your single sign on/sign in page, you should then see your list of Canvas Assignments download into your AEFIS Assignments page after clicking Go To Authorization.
Now you will be able to access your Canvas Assignments in AEFIS, and create relationships between Canvas Assignments and AEFIS Outcomes!