User Roles: Institutional Admin, College Admin, Department Admin, Faculty
Outcome: The user will generate a Course Section Trend Analysis Report.
Description: Generating a report will organize the data collected by the surveys and provide analysis as to where improvements are needed and where there are strengths.
Instructions:
Starting from the dashboard widget:
Start by locating the Reports widget on the dashboard.

Select the blue "Generate Report" Icon to the right of Course Section Trend Analysis to generate that report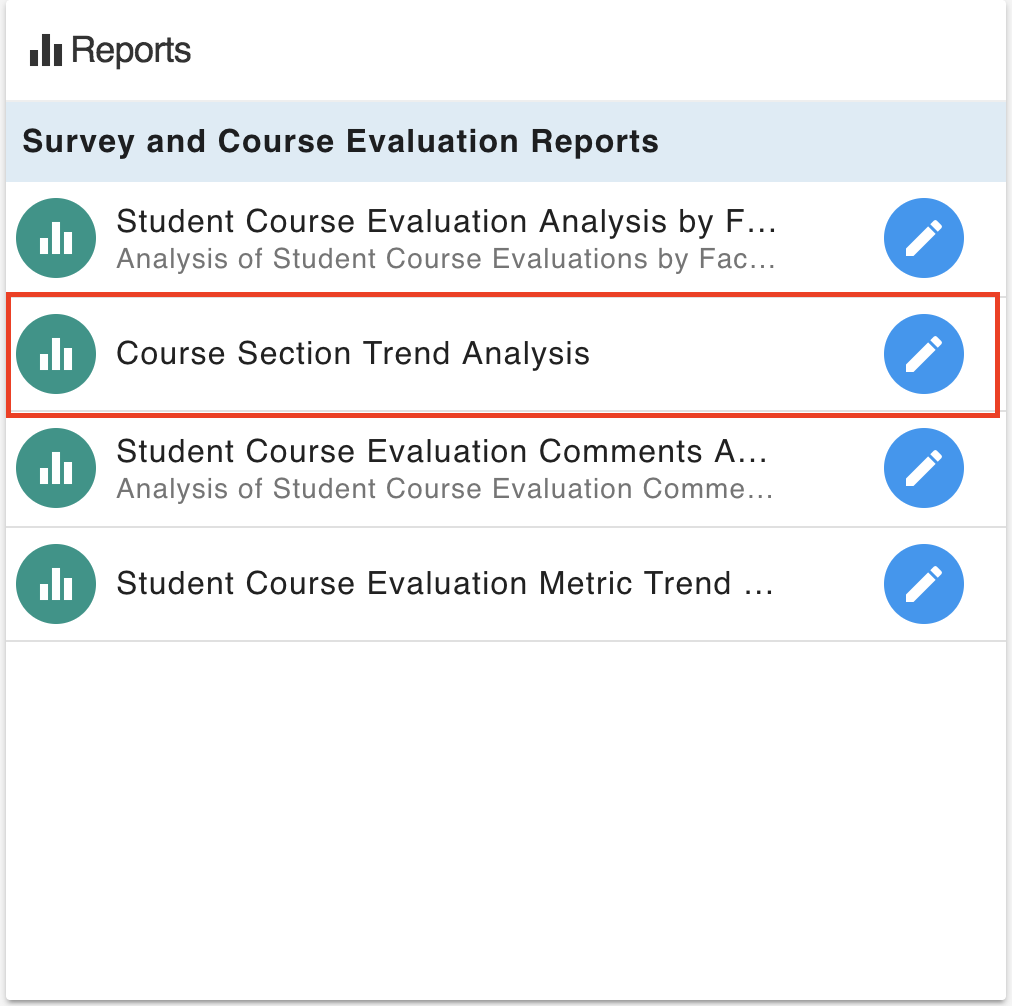 Starting from the main side menu:
Start by selecting the hamburger menu icon in the top left of the page to open up the menu.

Under the Analytics section of the menu, select "Report Dashboard"




The Report Dashboard page will open showing Student Course Evaluation Analysis by Faculty under Survey and Course Evaluations Reports.

Continuing from Report Dashboard:
Select

Course Section Trend Analysis

by either selecting the text or the "Generate Report" Icon

Chose the desired Report Parameters to filter the surveys

Statistics

- Select the type(s) of statistic calculation to run in the report

Compare With

- Select the entity(ies) to compare the results with.

Term

- Select the term(s) the report will span

College

- Select the college(s) within the institution

Department

- Select the department(s) within the college(s)

Course

- type in keywords for the course(s) needed for the report

Instructor

- If the user is a faculty user, the Instructor will be the user, if the user is an admin, the admin can select a specific instructor.

Course Section

- select the instructor's course section(s)

Survey

- choose the desired survey(s) need a report generated.

Show comments

(checkbox) - select from the checkbox to allow the report to show comments.






Select the blue "Run Report" button to generate a report, or the "Reset Parameters" button to clear and reset the parameters.

After the report is generated, the user can export the report by selecting the "Export" drop-down menu. The user is able to:

Download a PDF

Print the report

Download a CSV file

Download an Excel file






If the user needs to edit the report parameters, select the blue "Edit Report Parameters" Text under Report Parameters near the top of the page. This will return the user back to the Report Parameters page.