Search Filters
There is a large quantity of students, classes, instructors, programs, and other information within AEFIS, that using searches are necessary for efficient searching. There are many items to choose from, and it can be quite overwhelming. Luckily, AEFIS utilizes many quick filters and keyword searches in its search results. They are simple to use.
Below is an example highlighting the quick filters and keyword search of a list of courses. Next to "Available Courses," in a red box, is the number of courses that are currently in the search results. The large red box contains the quick filters and the keyword search bar the user can use when narrowing down their searches.
The filters are organized into the categories of subject, college, department, status, and keyword search (different filters may appear for different searches, but are used is the same manner). When a category of filter is chosen, a drop down list will appear. The user is able to scroll to find the desired option, or can search for the option in the search bar within the quick filter. After a filter is chosen from a quick filter or keyword search, the search results will tailor to the choice(s), and the filter will be added at the top of the search results.
Quick Filters
Subject - the code abbreviation for the desired class(es)
College - the college(s) the search is a part of
Department - the department(s) the search is associated with
Status - whether the search is Finalized, In Revision, Draft, or New
Keyword Search - the desired search can be found by searching the name or keywords. A drop down suggestion will appear with matching criteria as the user types.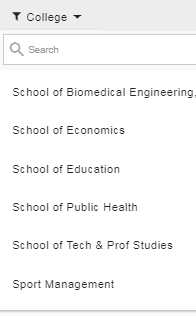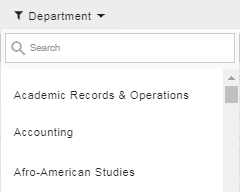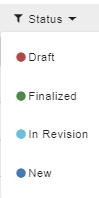 Below is an example of all 4 given quick filters being used as well as the keyword search. The selected filters will appear colored above the search results.
Remove all filters

- removes all selected filters for the search
Reset Defaults

- removes all filters except for a the selected subject.
Searching in AEFIS is easy. Select the quick filters and the results will filter until the desired item is shown. If a search yields no results for the desired item, refresh the page. If the item is known to exist and is not appearing in results, log off and log back into AEFIS and search again. If any issues occur, please send us a message in the Request Support section.