Updated: September 2021
Main Menu Navigation
The AEFIS Main Menu exists for all users, and can be accessed by selecting the hamburger icon
at the top left of the screen just above the institution name. The menu will open up on the left side of the screen displaying the menu items specific to your user role. Menu filters are available to help navigate the menu, seen in the blue banner to the right of the AEFIS logo.



The

eye icon

collapses and expands each menu section.

The

star icon

will filter and show the bookmarked sections of the menu

To bookmark a section of the menu, below the menu section's collapse/expansion arrow

, hover the cursor in line with the section to be bookmarked. An empty star border should appear. Click on the empty star border to make it turn yellow. This will select the desired menu section to be bookmarked.

The

magnifying glass icon will open up a search bar to search for the desired menu section.

The

left arrow icon

will hide the side menu from view.
The user's main menu is determined by role and may differ from another user's menu. Below is a the Main Menu of a user who only has a faculty type role (Course Section Director, Instructor, Teaching Assistant).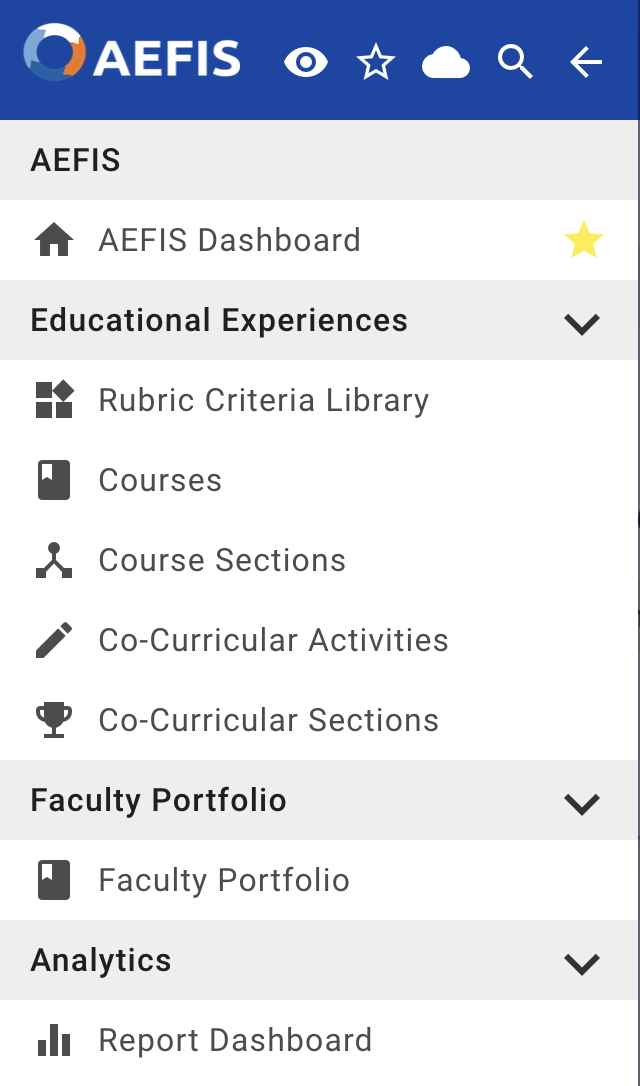 Below, you will see the main menu items available for a higher role level - a College Admin. Note that the Main Menu for that role is quite expansive!

Note: If a user has several roles - for example, a faculty role and a College Admin role, their main menu will default to the higher level role with the most expansive permissions. So, in this example, that user would see the lengthy menu above. However, their access to the data within the menu items will be restricted by their assigned College.